Gophers Net Big Win
By Matthew Deery - Writer
Source: Minneapolis Real Estate Advisor
Posted: Feb. 26, 2013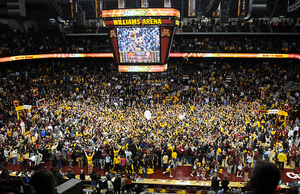 Minneapolis was the center of the college basketball universe on Tuesday night. Not only was the number one ranked Big Ten rival Indiana in town, but the Gophers made the night even more memorable by upsetting the best team in the country at Williams Arena (The Barn) on the University of Minnesota Campus. It's the first time since 1989 that the Gophers defeated a number one ranked team.
As most Gopher fans know, the basketball team has been on a mammoth slide since their early successes in the season. The team was ranked in the top ten early and since has slid all the way out of the top 25 teams. They've had notable losses to subpar squads like Northwestern and Iowa, but none of that mattered Tuesday night.
Tubby Smith, the head coach of the Gophers, had his team ready to play, dominating Indiana in rebounds, hustle, and the will to fight. Taking down the number one team in the land was no simple task, the last minutes of the game were filled with tension making Gophers fans hold their breath (not to mention the last minutes in every close basketball game actually take 30 minutes real time).
The team was led by 6th year senior Trevor Mbakwe's 21 points and 12 rebounds. His strong play is a good sign for the Gophers who near the end of the regular season; they will need him firing on all cylinders for the postseason, which features the Big Ten Tournament and the "Big Dance" aka March Madness.
Despite some of the Gophers recent woes, fans across the state hope this huge win will propel the team to another level. It's been more than a decade since this team has seen any real success, and even that is erased from the records (Clem Haskins academic scandal). Tubby Smith was supposed to lead this team to postseason success, this win might be the start of just that.